Free Download NetBeans IDE 7.0.1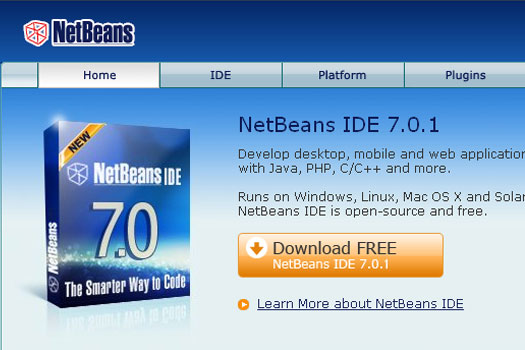 The NetBeans Team has released NetBeans IDE 7.0.1, with full support for the official release of the Java SE 7 platform.
Java SE 7 is officially released! With contributions from Java users around the world, Oracle engineers, and members of the Java ecosystem via the OpenJDK Community and the Java Community Process (JCP), Java Platform, Standard Edition 7 (Java SE 7) is an affirmation of the vibrancy of the Java community and of Oracle's ongoing commitment to the language and technology.
Major features of Java SE 7 include:
Project Coin – Language changes to help increase developer productivity and simplify common programming tasks
Fork/Join Framework – Enables parallelism for multi-core processors
New File System API – The ability to perform many basic file system operations natively
InvokeDynamic – Improved support for dynamic languages
Learn more about these features and many others, and get download information on the JavaSE 7 site.
An update to NetBeans IDE 7.0, this release includes the following notable changes:
Full JDK 7 support: Running NetBeans IDE on top of JDK 7, and support for the final version of the JDK 7 language features.
Integration of recent patches.
Performance improvements.
To get the recent changes.
OR
If you already have NetBeans IDE 7.0 installed, launch the IDE and an update notification will appear. Click the alert-box to install the updates.
You can follow us on  our Facebook fanpage to keep yourself updated about latest Technology, Entertainment News. Subscribe our daily News letter Here. Keep Spread Junkaria among your Friends Circle and become Junkaria top friends.
Related Search Terms: